When shopping for new industrial PCs, there are many important factors to consider. CPU age and clock speed, hard drive space, and availability of I/O ports are all crucial considerations to make when deciding on the equipment that will keep your facility running in the years to come. But one critical, and usually overlooked, aspect of industrial PCs to consider when purchasing a new setup is the amount of random access memory (RAM) they contain.
What Is RAM In An Industrial PC?
When we think of an Industrial PC, we like to imagine one tower that does everything itself. But this is actually not the case, and even in the smallest microcontrollers different components make up the larger computer. RAM serves a secondary storage for your computer alongside your hard drive, but has a specific task. Instead of saving data such as programs and files on a long term basis, RAM is actually empty when the computer is not in use. When you use a program, such as autoCAD, Premiere Pro, or even SOLIDWORKS, on your industrial PC the program is copied from the hard drive to the RAM. Hard drives have a certain amount of data they can transfer around the Industrial PC every second, and RAM has a much higher rate of data transfer; Therefore RAM allows for programs, files, and data in use to be easily accessed by the industrial PC for immediate use.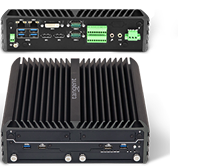 How Much RAM Do I Need In My Industrial PC?
While everyone's industrial PC needs vary, a good rule of thumb when looking at RAM is: The more, the better. There simply is no real drawbacks to having as much RAM as possible, as more RAM allows more programs, files, and data to be in use at once on your Industrial PC. However, there is a minimum amount of RAM for many programs that should be beared in mind. For instance, SOLIDWORKS requires a minimum of 16 gigabytes (gb) of RAM to function and 32 gb to work optimally. The Rugged Mini E3 from Tangent can be configured to both a 16 gb and 32 gb amount of RAM, enabling this industrial PC to function as a standalone SOLIDWORKS workstation or general use station. Every program should have a minimum system requirements section listed on its software page which will tell you how much RAM is needed for the program.
Why Should My Industrial PC Have More Ram Than It Needs?
As technology progresses, the file sizes of programs are getting bigger, and require more computing power to handle. SOLIDWORKS now recommends the use of solid state drives over hard drives due to their significantly faster data transfer speeds. Having more RAM than is required for programs is an easy way to future-proof your industrial PC purchase. In the short run, a larger pool of RAM allows your industrial PC to multitask, running multiple industrial software at once. In the long run, your industrial PC will still be able to handle the new, updated industrial software without needing an upgrade itself.
RAM In Industrial PCs
Whether you put the maximum or minimum amount of RAM in your industrial PCs, it is important to understand what RAM does and make an informed decision on the matter. Tangent industrial PCs have a wide range of RAM options, from 4gb up to 32 gb, allowing you to make the best decision possible for your facility.