As the computing needs of hospitals have evolved, so have medical computers. The difference between medical computers and standard computers has only grown in recent years. Whereas before medical facilities could manage with standard computers, now such decisions only hold them back. Medical computers have become integral in healthcare for a number of reasons. They can help reduce workplace hazards like tripping, scale back the maintenance time required on medical carts, and much more.
How Computer Cords Can Be A Workplace Hazard
Reducing hazards to patients and staff is one of the foremost considerations in healthcare environments. While they may seem trivial, falls are one hazard that can cause harm in the hospital. In fact, The National Patient Safety Goals (NPSGs) directly addresses fall prevention as a necessary factor to combat health care-associated harms. An effective fall prevention program includes environmental measures to combat falls, such as reducing the number of cords on a room's floor.
There are a number of ways that computer cords can cause issues in the hospital:
Most computers need a long extension cords, creating potential tripping hazards
Multiple cords plugged into one outlet can become a potential fire hazard
A plug can accidentally become unplugged, causing important patient information to become lost or corrupted
Medical Computers With Hot-Swap Batteries For Medical Carts
While traditional computers rely on power cords to function, some medical computers do not. Medical computers like the T24B from Tangent can hold up to 3 high capacity lithium ion battery cells inside its casing. The T24B only needs one battery to operate, allowing workers to charge the other two on the multi cell charging dock. With two batteries inside of it, the T24B will seamlessly switch from the one to the other when the first runs out of power. The unit will also activate a low-battery LED light, letting workers know it is time to swap out the batteries.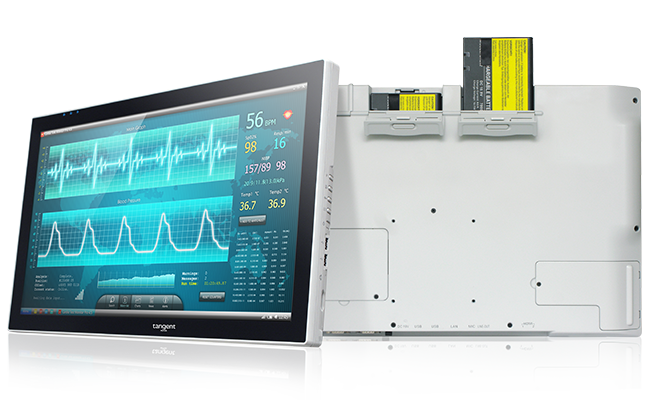 Although most hospitals have emergency electrical generators, they don't always offer uninterrupted power. In the case of an outage, most computers will power off until the electricity is back online as provided by the on-site generator. The T24B won't suffer from these hiccups. It's built-in operational battery packs will keep this system alive whether it's plugged in via the AC direct power adapter or operating off its batteries.
Power Anywhere And On The Move
The T24B Medical computer can recharge its batteries via the provided AC adapter or its built-in battery ports. During the pandemic, hospitals have set up outdoor screening tents and relied on small portable gas generators to power up their medical carts and EHR computers. Hospitals can eliminate the need for independent generators with medical computers like the T24B. A medical computer with these batteries can run for up to 30 hours.
Hot-swap battery ready medical computers also eliminate the need for powered medical carts. Powered medical carts can cost your IT department both time and money in upfront costs and maintenance. With Tangent, when the time comes to replace a battery, all your IT department will need to do is call Tangent for a warranty replacement — there's no need to dig out old manuals. There's no need to ship out a large medical cart, and there's no downtime either; just divide up your other battery cells until the new one arrives.
Medical Computers: Built Better
Our cart-ready medical computers run the same software and use the same processors and components of most mini PCs and small computers that are traditionally mounted on carts — but the similarity stops there. Tangent medical computers are designed to not just be mounted anywhere, but specifically in the medical setting. There are many features that are unique to medical computers that cannot be found in traditional computers:
Military grade components
Capacitors designed to not leak
Power supplies made for 24/7 usage
Antimicrobial housing to reduce the spread of germs
Touchscreens that are washable
Specialized WiFi card to accommodate roaming in the hospital
IP65/66 sealed for water and dust
Fanless operation
VESA mountable
Built-in NFC, barcode and smart card login for Imprivata and patient IDs
Legacy ports and custom ports for medical equipment
Medical Computers: Built For Healthcare And Medical Carts
Tangent medical computers offer hospitals a way to get the computing power they need, without the hassle and maintenance that traditional computers require. Tangent's California-based team of technical support specialists is always ready to assist your hospital in the rare event that service is needed. For more information, contact Tangent Sales today.