To most hourly employees, the work time clock is an annoying, but necessary evil. To payroll departments, it's the most essential tool in the galaxy. And to IT departments, it's something that needs to be available in lots of places around the company floor but also, out of the way. Most modern time clock stations are comprised of a touchscreen monitor, a badge card swiper, and some sort of computer system. In the spirit of space saving, many opt for a small form factor computer that sits on the back of the monitor but there are even more steps that can be taken to have a system that is reliable, long-lasting, practically imperceptible, and industrial quality. We all know that it quickly becomes nightmare when people can't clock in and out. Tangent's rugged, industrial mini computers are the perfect fit for such an application, especially if they need to accommodate even more functionality and environments harsher than a corporate office.  
The Tangent Rugged Mini Q industrial mini computer is considered an ultra mini form factor and comes with a surprising amount of features despite its diminutive size. The industrial mini computer has fanless cooling and mSATA solid state drive storage. Without any fans or moving disks to wear out and fail, the computer will have a longer usable lifespan and 24/7 uptime. This is key to applications that need to be at the ready at all times. An optional wireless card and antennas allow for fewer cables running to the system, which is great for kiosks that are wall mounted. At less than 5 inches in length and a weight of 1.35lbs, this ultra mini computer will barely be noticeable anywhere it is installed or mounted.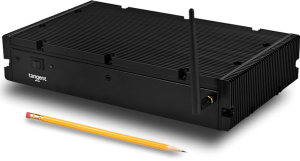 For a mini form factor industrial computer with a little more processing punch, the Rugged Mini S has an Intel 6th Generation Core series processor, Intel HD Graphics card, and up to 32GB of ram. Instead of just a time clock, you can have several other apps running like Office for shared calendars and email, perhaps guest check-in and forms software, office directories, or flash games for young clients in waiting rooms. Like the Rugged Q, this industrial grade mini computer system is also fan and disc free, can connect to wifi and be tucked away seamlessly behind a mounted monitor. And this is just two examples of the types of things that mini computers can do, and two of many types of mini computers that Tangent offers. From mundane repetitive tasks to processor heavy tasks, there's an ultra mini industrial computer that can readily comply for many years.