When computers were first introduced into the medical setting, they were still something of a luxury. Today, computers are an invaluable tool for providing patients with safe, secure, and quick care. While there are many different types of computers, computers used in the medical setting should be medical computers.Tangent medical computers come in many variants, each designed to meet certain needs in the medical setting.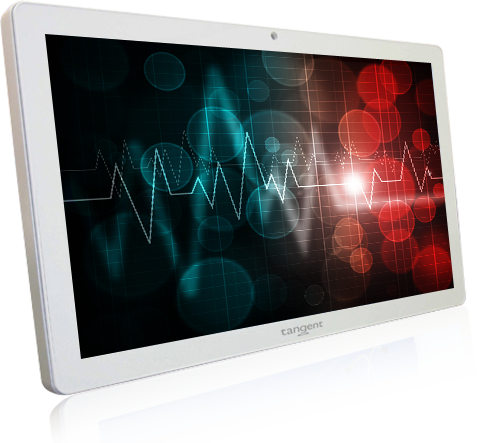 All-In-One Computers
When it comes to versatility, Tangent's line of all-in-one touchscreen medical computers are unbeaten. With VESA 75 standardized mounting, all-in-one touchscreen computers such as the Medix KW Series can be placed or mounted in any setting. The widescreen display of the Medix KW allows for more information to be available on screen at any given time, and the 4-wire resistive touchscreen ensures that you can access files with ease.
Tangent all-in-one touchscreen computers are Ul60601 certified, meeting rigorous medical safety standards. As a result, Tangent medical computers are antimicrobic, meaning that they prevent the growth of bacteria on their surfaces. The prevention of harmful pathogens like MRSA and Hepatitis from lingering on the computer screen allows doctors to focus more of their energy on their patients, and less on worrying about the medical computers aiding them.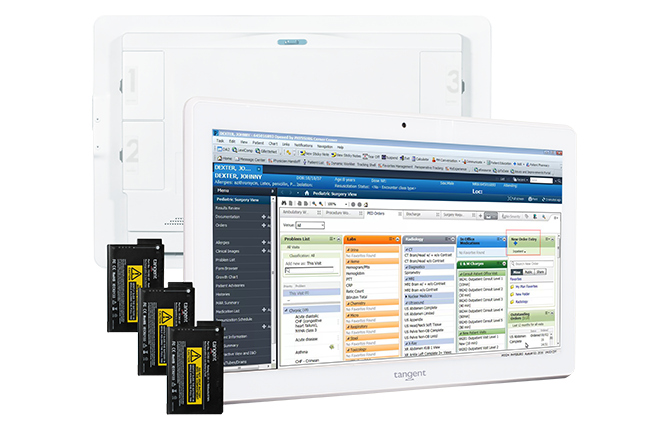 Medical Cart Computers
When it comes to workstations on wheels and medical carts, medical cart computers offer the best mobility to power ratio. Like the all-in-one medical computer, medical cart computers from Tangent are UL60601 certified antimicrobic and sport responsive touch screens. However, models such as the Medix E22B medical computer feature hot-swappable batteries, and can run 24×7 without needing to wait for a charge. Simply swap out a dying battery for a fully charged one, and the Medix E33B is ready for the next eight hours.
Medical Tablet PCs
When you're on the move through the hospital, Tangent medical tablet PCs ensure that you'll be connected to all your patient's information. Featuring a convenient carrying handle, the 
Medix T13 medical tablet is an incredibly portable tablet with a powerful 8th generation intel CPU. The Medix T13 comes equipped with an antimicrobial housing, hot-swap batteries, and a magnesium chassis that is 33% lighter than aluminum yet still delivers an impressively high strength-to-weight ratio. 
Medical Monitors
When a room is fitted with an all-in-one PC but needs a secondary screen, medical monitors from Tangent play a critical role. The Touch Screen Medical LCD Monitor from Tangent provides a second full-touchscreen monitor to a medical computer, one that can be mounted on a point-of-care cart, desktop, or arm. The Touch Screen Medical LCD Monitor can fit either VESA 75 or VESA 100 mounts, allowing it to be placed in virtually any situation that it is needed. Just like the medical computer it is attached to, the Touch Screen Medical LCD Monitor from Tangent has an antimicrobial enclosure.
There is no one-size-fits-all medical computer that can complete every task, after all the operations of a medical cart are vastly different than that of the exam room. But with Tangent's array of medical computers, you can be sure that all your hospital's computing needs will be met. From all-in-one pcs to medical tablets, Tangent's wide variety of available medical computers ensures that you have the right computer, at the right place, at the right time.