Hospitals have dealt with a variety of new problems in the last few years. Worsening natural disasters and the pandemic have changed the healthcare landscape. Hospitals can no longer rely on many of the protocols that have kept them afloat in the past. They have had to adapt to these new challenges, creating new and improved workflows and procedures. However, their equipment may still be lacking. New medical grade PCs can help your hospital in both the present and future.
E24B: Built For The Best And Worst Case Scenarios
Natural disasters like Hurricane Ida are becoming more frequent. In New Orleans, the only people with power after the storm were those with generators. Hospitals in this area have been preparing for Hurricanes since the devastation of Katrina, with some even designing their hospitals' first floor to be able to flood without damaging essential services. Generators play an important role in these preparations as well, but can only provide so much power for so long.
Medical grade PCs like the E24B can help alleviate the power consumption of your hospital while on generator power. The E24B comes equipped with three hot-swap batteries. Together, these batteries allow the E24B to run on a 24/7 basis when regularly swapped out. These batteries can also serve as a backup power solution during blackouts, keeping the medical grade PC running without straining your hospital's grid.
M24T: Fast And Safe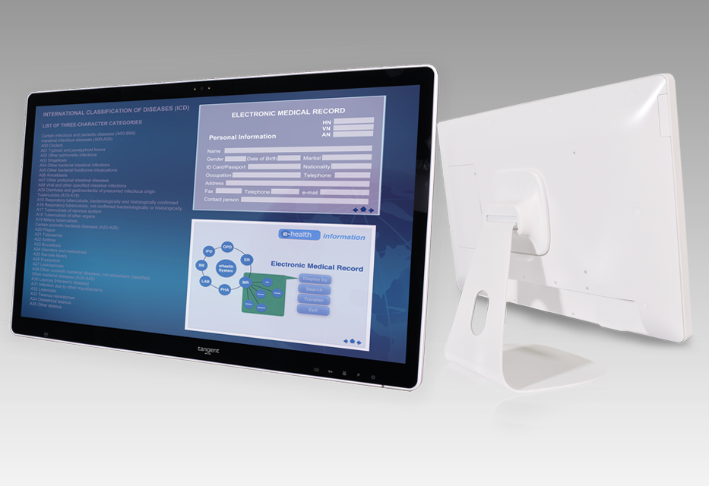 Hospitals have had to up their sanitary game in the last year. Regular cleanings of all common areas have become more frequent, alongside an increased use in hand sanitizer. But what about the equipment your staff works with on a daily basis? Is every surface being cleaned as much as it should be?
Medical grade PCs like the M24T from Tangent are fully sanitizable. They feature IP ratings for water and dust resistance and can be cleaned with standard detergents to promote hygiene. On top of this, the M24T and all other medical grade PCs from Tangent features an antimicrobial enclosure. This enclosure mitigates the growth of bacteria across the computer's surface, promoting a safer environment.
C24 Medical Grade PCs: Mountable Anywhere
The many rooms of a hospital each come with their own limits and restrictions. Some are big and can handle a full desk or medical grade PC setup, others not so much. Medical grade PCs like the C24 from Tangent are designed to be mounted in a variety of situations. The C24 features standard VESA mounting and can be placed on medical crash carts, nursing carts, wall mounts, arm, or desk with ease. The C24 Is perfect as a versatile computer that needs to move around a room constantly.
Tangent: The Best Medical Grade PCs
When looking for quality equipment that your doctors can depend on, look no further than Tangent. Tangent offers 24/7, U.S. based technical support for all of their medical grade PCs on top of their expansive warranty. For more information, contact Tangent Sales today.