At Tangent, we strive to make all of our computers as durable and dependable as possible. This vision is most accomplished in our line of rugged computers, each one custom designed to work in the harshest work environments possible. Every rugged computer from Tangent has a unique design and set of features that makes it stand out; this ensures that whatever the task, a Tangent rugged computer will be up to it. While every rugged computer from Tangent is worth a look, we've picked five of our favorites for their own spotlight.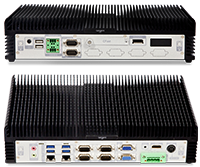 Rugged Mini Tank
The Rugged Mini Tank from Tangent is named aptly, being one of Tangent's most durable rugged computers. The Rugged Mini Tank meet military standard specifications for dust, shock, vibration, rain, humidity, solar radiation, and more. The fanless design coupled with a solid state drive means that this rugged computer has no moving parts whatsoever, and can withstand shocks and drops commercial PCs couldn't fathom. In addition, the Rugged Mini Tank can operate in extreme temperatures from -4° to 158°F without any damage to the rugged computer. These features combine to make the Rugged Mini Tank the perfect in-vehicle computer for any vehicle. Whether it's equipped to a tractor going through a bumpy construction site or a forklift in a warehouse on a hot summer's day, the Rugged Mini tank will be able to perform as if it was sitting in an air conditioned office.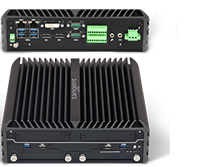 Rugged Mini E3
The Rugged Mini E3 is the latest in the E line of rugged computers from Tangent. The Rugged Mini E3 is one of the most powerful rugged computers out there, sporting one of the latest Intel Core I7 processors and a built in graphics controller. This small rugged computer packs a massive punch, and with Windows 7 and 10 available it can put this power to good use on any computer program. The Rugged Mini E3 also comes equipped with extra drive bays, meaning that you can expand its memory capacity whenever needed—by terabytes. The Rugged Mini E3 is perfect for situations where human error can lead to a rugged computer being needlessly left on, as it features an auto-shutoff timer. This makes the Rugged Mini E3 ideal for vehicle mounting, ensuring that a left-on computer will not drain the battery.
Rugged Mini S
The Rugged Mini S from Tangent is a sleeker rugged computer, being 33% lighter than the Rugged Mini Tank. No compromises were made to achieve this smaller size however, the Rugged Mini S also sports one of the latest Intel Core I7 processors and can be equipped with a massive 32 gigabytes of DDR4 RAM. RAM stands for random access memory, and serves as a temporary storage area for programs that are in use. Having more RAM built into a computer means that the computer can multitask on numerous programs without lag. The large capacity of RAM on the Rugged Mini S makes it perfect for situations where numerous programs must be run at the same time, such as on a medical cart. When equipped to a medical cart, the Rugged Mini S can operate all the various sensors and programs required of it simultaneously, without delay. The Rugged Mini S also features a TPM security module that protects the rugged computer from any unauthorized requests for sensitive information, saving your hospital from costly data breaches.
Rugged Mini I
The Rugged Mini I from Tangent ups the ante when it comes to rugged computers, being able to support not one, not two, but three monitors simultaneously. When you need to work on a complex job that requires multiple programs or web pages operating at the same time, the Rugged Mini I is your solution. Triple monitor support also makes this rugged computer perfect for digital signage, as its wide operating temperature range and solid chassis allows it to display advertisements or information consistently. Clocking in a mere 2.42 pounds, this rugged computer can be placed in any situation while providing the power needed to display extremely large images. 
Rugged Mini Q1
We've explored four of our top rugged computers on this list, with features ranging from triple monitor support to extreme temperature operation. But by far my favorite rugged computer in the Tangent line up is the Rugged Mini Q1 for one simple reason: it's the smallest one yet. To call the Rugged Mini Q1 a "mini PC" is an understatement, the Q1 weighs 1.29 pounds, that's almost half the weight of the already incredibly small Rugged Mini I. The extreme lightweightedness of this rugged computer is matched by its tiny dimensions, coming in at 4.33 inches by 4.56 inches by 1.93inces—less than 2 inches tall! This insanely small size allows for the Rugged Mini Q1 to fit between a monitor and it's mount, making this rugged computer ideal for situations where room is scarce. The Rugged Mini Q1 comes with Windows 7 or 10 preinstalled, and has the CPU and RAM  power needed to run medical, industrial, or advertisement software.