When you think of spoofing or phishing emails, you probably associate them with an email attack. But what does this all mean, exactly, and how can your organization avoid them?
A Brief History
As early as the 1970s, spammers were able to get around email filters and eventually grew into a global cybersecurity issue in the 2000s.
To help combat this, email security protocols were introduced to help stop email spoofing and phishing. As a result, many spoofed emails get sent directly to spam or junk folders.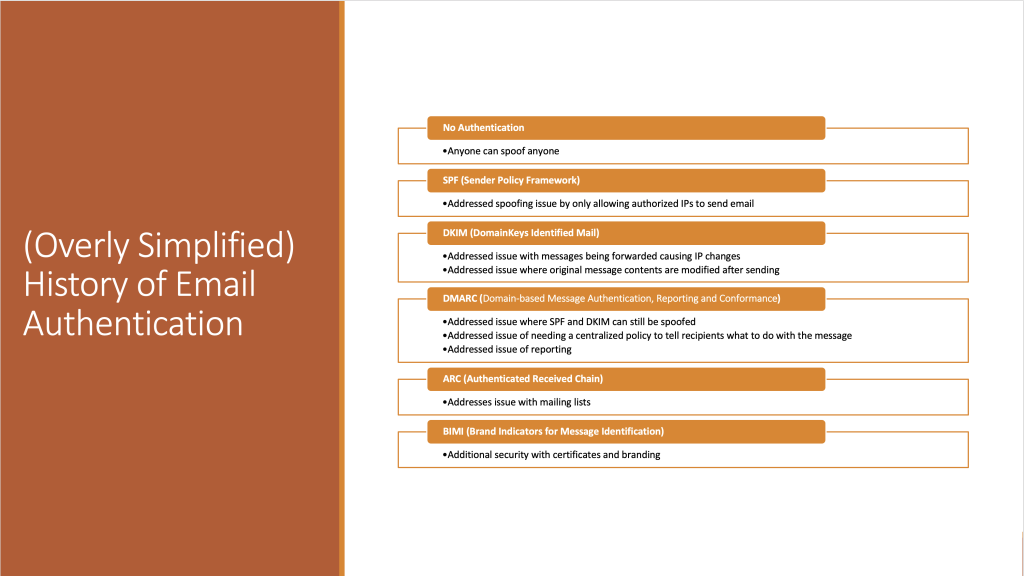 Spoofing and Phishing
If you've ever received an email from an unknown sender with a rather suspicious-looking link, chances are it was a phishing email. Phishing emails aim to extract sensitive, personal information. It can be easy to spot a phishing email if it's from a sender you're not familiar with, an unrecognizable company or domain, or you've noticed a misspelling.
Email spoofing, on the other hand, is used to trick recipients into thinking the email came from a trusted person or entity, such as your employer or bank. A recognizable sender email address is more likely to lead the recipient to click malicious links, open malware attachments, and even send sensitive data. Spoofed email sending addresses that were not sent from your organization can tarnish your brand's reputation. So how can your organization prevent this?
Email Authentication Protocols
If your domain was being used in an email spoofing attack, would you even know? Organizations can protect their brand and domain by putting email authentication protocols in place.
DKIM, SPF, and DMARC are email authentication technologies that help improve your email deliverability and email security. Without these in place, your organization's domain is vulnerable to email hackers who are able to send spoofed emails to your customers or employees using your domain.
DKIM, or DomainKeys Identified Mail, works by attaching an encrypted DKIM signature to the email, which is then verified by the receiver or receiving system. Implementing DKIM is a great way to protect your organization, employees, and customers from targeted email attacks
SPF stands for Sender Policy Framework and is another type of email authentication technology. Domain owners use SPF to specify the emails they send are coming from their verified list of email servers. An SPF record verifies the IP address of the sender and compares it to the domain owner.
Domain-based Message Authentication, Reporting and Conformance (DMARC) is a relatively new email authentication policy and reporting policy compared to SPF and DKIM. DMARC works by building upon SPF and DKIM mechanisms to validate the sender of an email. With a DMARC record, senders indicate that their email messages are protected by SPF and/or DKIM. It also instructs the receiver of what to do in the event that SPF or DKIM do not pass, such as sending the email to a junk folder or rejecting the email entirely. Furthermore, DMARC allows the receiver to automatically report a pass and/or fail DMARC evaluation and other details to the email address owner.
Protect Your Brand Reputation
Together, these three protocols will help protect your organization from spoofed and phishing emails sent from your domain. To learn more about DMARC, or to get started with a DMARC Record Configuration, visit dmarc.tangent.com.