The use of electric cars is quickly becoming commonplace around the globe, with the adoption of such vehicles being seen in nearly every industrialized country. In 2018 alone, the amount of electric vehicles in use nearly doubled from the previous year to 5.1 million according to the International Energy Agency, an autonomous intergovernmental organization.
With such a meteoric rise in the consumer use of such vehicles, we cannot discount their viability in the industrial space. Electric vehicles are not only better for the environment, but also better for the productivity of the industrial sector. Integrating electric cars and electric vehicles into your industrial or warehouse space can lead to boosts in productivity and worker  health.
Electric Vehicles: Not Just For Commuters
When one thinks about electric vehicles, thoughts gravitate towards the big name electric car companies that are seemingly always in the headlines. While these companies are making great strides in the mileage range and cost of consumer electric vehicles, other companies have been innovating electric vehicles for industrial use under the radar. In fact, many industrial vehicles—from forklifts to personnel carriers— have electric vehicle variants ready for use.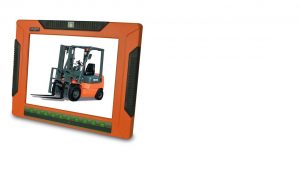 These vehicles are less noisy, and more versatile than their combustion engine counterparts. The lack of a noisy combustion engine makes these vehicles the perfect platform for mobile working. When paired with touchscreen industrial computers with programmable function keys, electric vehicles become the ultimate mobile workstation. Allowing for one hand use, touchscreen industrial computers plug directly into your electric vehicle and connect directly to your warehouse management system or network.
Better For The Environment, Margins, And Workers
Everyone knows that electric cars are better for the environment, but as an added bonus  they are also better for margins. The cost to operate electric vehicles is half the price of combustion engine vehicles, according to the U.S. Department Of Energy, owing in part to the relatively stable price of electricity compared to oil-based fuels. Electric vehicles can take out the worry about how fluctuations in the global oil supply will affect your operating expenses, cutting travel costs in half and normalizing your budget—all while giving you the peace of mind knowing that your company has made a small step towards a greener future.
In addition, electric vehicles are safer to operate than their older combustion engine relatives. Electric cars are favored by consumers not only for their low operating cost and environmental impact, but also their lack of dangerous fume exhaust. Prolonged exposure to exhaust such as carbon monoxide can lead to serious health complications, including heart problems and brain damage. Fumes spit out by traditional industrial vehicles can slowly cause these health problems for your workers, leading to increased medical expenses or worse. Electric vehicles offer a safe, promising alternative to a workplace problem damaging the environment, margins, and workers.
Electric Vehicles: The Future, Today
Electric vehicles are poised to take over the transportation sector, and industrial vehicles are no exception to this. When upgrading your fleet to include electric vehicles, make sure your workers get the most out of this investment by equipping them with touchscreen industrial computers.