Bottlenecks in shipping have affected consumers and producers alike. With current trends, the supply chain crisis is unlikely to resolve in the near term. Everything from cars to computers is facing delays in production in one form or another. During times like these, companies across all sectors need reliable tools that they can depend on. With a supply chain crisis, there is simply no sense in risking further delays in production with fault equipment. Industrial PCs have become a common fixture in many industries. But when was the last time your company audited and upgraded its equipment? As demand once again surges to pre-pandemic levels, now is the time to sort out upgrading your facility with the latest industrial PCs to ensure it emerges from this crisis in fighting shape.
But not every brand of industrial PCs is building equipment that will last your facility for years. Many computers are designed with either low-impact resistant materials, small operating temperature ranges, or lacking in ports. Tangent industrial PCs are built for a wide range of applications, all while performing in nearly any environment.
Industrial PCs: Variety Of Form Factors
One of the most valuable resources any industrial facility has is its square footage. Factories can only produce as much as they have room for. Oil rigs are notoriously cramped spaces as well. Making the most out of every square foot is crucial to increasing productivity. Tangent understands this and has designed their lineup of industrial PCs to fit in nearly every space.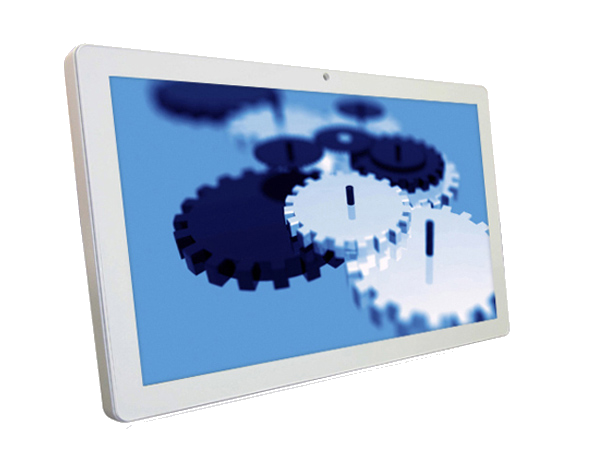 Not every location is suitable for a full desk setup. Yet, a computer may be extremely necessary in an area with limited space. Small form factor industrial PCs like the VITA K22 from Tangent are perfect for these situations. The Vita K22 does not require a mouse or keyboard to operate with its touchscreen. With standard VESA mounting, the K22 can be placed in nearly any environment.
Instead of having to rely on a far away control center, workers can check up on an area's equipment by using a wall mounted industrial PC like the Vita K22. This computer can also run Android, meaning it is compatible with Android specific applications.
Other industrial PCs offer even smaller form factors. The Mini E3 V2 from Tangent offers all the power of a desktop computer in a tiny package. The E3 is a mere 3.15 inches tall, and around the width of a small laptop. This industrial PC can be placed in nearly any situation, and makes a great in-vehicle computer.
Industrial PCs: Built Tough 
While job sites take safety seriously as priority these days, safety for industrial PCs is a whole different matter. Standard PCs that are used in offices and homes do not have to be built to withstand industrial conditions. On an oil rig, there is the constant threat of water seeping into a computer. In factories, shaking and drops are a routine occurrence.
A good industrial PC needs to be able to survive in a variety of environments with damage to the unit. Tangent's industrial grade PCs are built with all working environments in min. The Mini E3 is designed with an extruded aluminum enclosure complete with heavy duty metal. This casing, combined with its advanced design, allows it to withstand 50 G, half sine, 11 ms of shock and 5 Grms, 5- 500 Hz, 0.5 hr/axis worth of vibration. The E3 can be used in a variety of situations where moving parts routinely cause damage to PCs.
Many of Tangent's industrial PCs feature shock and vibration resistance. These features also make them perfect for use in large industrial vehicles, as their constant movement won't be a problem for the PCs.
Industrial PCs: Fanless and fanned chassis design.
Many industrial sites make use of materials that produce dust, or exist in areas where dust is routinely kicked up. While your workers have masks and other PPE to protect them from dust, what about your industrial PCs? Many computers utilize a fan-based cooling system. This cooling system circulates air throughout the body of the computer in order to keep its delicate components cool enough to function properly. However, in order to feed air into these fans, these computers require ventilation.
In an area where dust is common, this simply won't do. PCs would be breaking down constantly as they filled up with debris. That's why Tangent's industrial PCs make use of a fanless cooling system. This system utilizes passive cooling technology to keep the computer running at a cool temperature. Because there is no fan, these units do not need ventilation and are protected from dust at all times.
This not only prevents the industrial PCs from overheating, but also saves maintenance costs and time as well. Your IT department will not have to routinely dust these computers nearly as often, and can instead focus their efforts elsewhere.
Maximum Water And Dust Resistance
Dust of course is not the only environmental enemy that your industrial PCs face. Water exposure is a constant threat to any form of electronics. Just a few drops can take out an entire computer, and halt a facility's operations. In an industrial environment, liquids can appear from any number of sources entirely by accident. Industrial PCs need to be built with this in mind.
That's where the Rugged Mini O comes in. The Rugged Mini O features an entirely closed off enclosure that keeps water out, and your computer operating. The Rugged Mini O features all the IO ports that your facility requires, but with plugs to keep them safe from water. This industrial PC meets the highest IP standard possible for water and dust protection. This IP69K rating means that this industrial PC provides protection against ingress of dust and high temperature and high pressure water.
The Rugged Mini O is perfect for applications like in food processing plants. There, it can be hit with high pressure hoses without worry of damage. This industrial PC can also find a home on oil rigs where water routinely splashes up to the platform. It features a mounting system to fit it in multiple locations as well.
Extreme Temperature Operation Comes Standard
Extreme weather events are becoming more common with each passing day. One rarely talked about weather event is heat waves. Heat waves have become more common, but are seldom tracked in the same way that other weather occurrences are. Still, as temperatures rise, the industrial sector will need to adapt. Their equipment will need to also.
Most industrial PCs cannot handle high temperatures, and for good reason. Computers in general fail to operate at high temperatures. Too long at these temperatures, and the PC's CPU can sustain serious long term damage. They need advanced cooling systems in order to fend off extreme heat.
The Rugged Mini O features such a cooling system. It can operate in areas up to 140°F. Most industrial facilities rarely get this hot, but can quickly become far too overheated for standard computers. Other facilities can routinely reach these temperatures. In either case, the Rugged Mini O provides ease of mind in knowing that your facility can function even in extreme heat.
Sometimes however, just the opposite is needed. In refrigerated facilities, extreme cold resistance is needed for computers. Just a dash of humidity in a refrigerated facility can cause ice crystals to form inside a computer. When the computer thaws out, the ice can turn into water and damage the unit.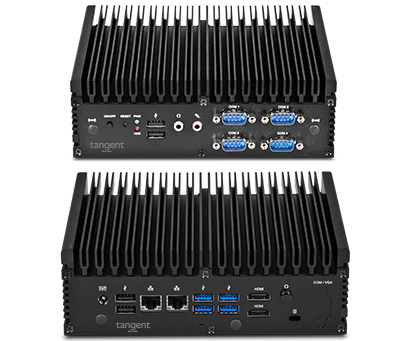 Industrial PCs like the Rugged Mini C1 from Tangent can be used in temperatures as low as -40°F without damage to the unit. This makes it perfect for use in freezing areas in meat or food processing plants. It can be used directly inside these areas and connect directly to in use machinery.
Reduce Down Time
One area that industrial facilities need to be mindful of when purchasing new industrial PCs is their support services. While it may seem trivial, the last thing you want is for your industrial PCs to stop working, and your IT department to be on hold with the supplier for hours. These sorts of delays are only exacerbated by the supply chain crises, and can cost your company in both time and money.
Tangent offers extensive warranties for all of their industrial PCs. This warranty ensures that your computers work as intended and meet our rigorous standards. We also back these industrial PCs up with an extensive support network.
Any time there is an issue with a Tangent industrial PC, your IT department can call Tangent's support hotline for assistance. Tangent agents are based in California, and are intimately acquainted with all of Tangent's industrial PCs. They understand the importance of reducing a facility's downtime, and will work tirelessly with your team to get your system operational.
When there are no crises, this hotline is still available for routine maintenance and care advice, as well as general technical inquiries your IT team may have. The best part? Tangent's crackshot team of support professionals are available on a 24/7 basis. Tangent knows that an emergency can strike in a moment's notice, any time of the day. We want to ensure that whenever — and we mean whenever — there is an issue with one of our industrial PCs, that we take care of it immediately.
Extensive IO Port Options
Just because Tangent's lineup of Industrial PCs feature small form factors, doesn't mean they sacrifice in their usability. Tangent's industrial computers are designed to be used in a variety of applications. This means that they need to be adaptable and compatible with a range of different peripherals and applications.
Industrial PCs like the Rugged Mini C1 feature a plethora of IO ports for all of your peripheral needs. It features 4 DB9 serial ports that are perfect for all of your legacy equipment needs. Many industrial facilities are making use of technology that is still highly efficient, but features outdated cables. Instead of having to work through a mountain of adapters, the C1 can connect directly to these devices.
The C1 also features 8 USB ports. 4 of these ports are USB 3.0, and can handle high-data transfer cables to provide lightning fast responses. 4 are USB 2.0 and fully compatible with USB 2.0 devices. The C1 also has 2 HDMI ports, making it perfect for situations where dual displays are not just desired, but needed.
Tangent: Here Today And Tomorrow
The challenges facing the global economy are expected to be around a bit longer. As your production lines try to keep up with demand, now is the time to ensure that when the supply chain gets back into shape, you are ready. Tangent's industrial PCs are perfect for upgrading your oil processing facility, refrigerated warehouse, or general industrial space. For more information, contact Tangent Sales today.