Whether it's a months long deployment, or a routine test, having the right rugged PC for your military operation is critical to the success of the mission. Rugged PCs work in situations that commercial PCs simply can not operate in, being designed to endure harsh, ever changing environments. Here are some critical features of Rugged PCs that make them perfect for military use:
Built Tough
When there's no telling what the next environment you'll be in is, having personnel worry if their PC can survive is the last thing you want them to be doing. Rugged PCs like the Rugged Mini E3 from Tangent are built with this in mind, meeting military standards for dust, shock, vibration, rain, humidity, solar radiation, altitude, and temperature extremes. Tangent's custom fanless designs on their rugged PCs ensures that no matter how dusty or dirty a situation gets, there is no chance that anything will get inside your rugged PC. Military grade shock resistance means that rugged PCs from Tangent can take a beating and keep operating as though they were in a civilian office.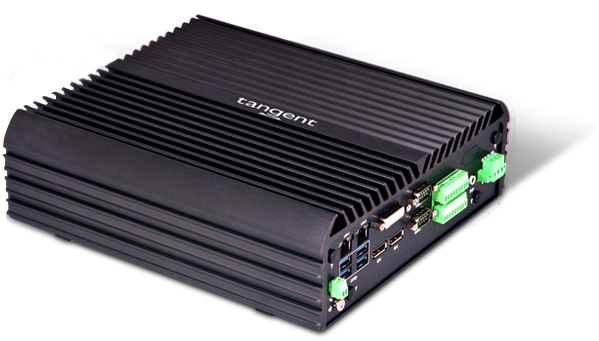 Built Smart
Just because you're in a remote location doesn't mean you don't need top of the line computing power. Tangent knows that having durable equipment is important, but ultimately the power of the equipment is what makes the difference in operations. Rugged PCs like the Rugged Mini Tank from Tangent are not just built tough, they're built smart. With powerful i7 quadcore processors built in, rugged PCs from Tangent can run any programs required of them. Even better, having the latest i7 chips ensures that these rugged PCs will be able to run any new software that is developed without needing upgrades.
Built Versatile
What good is having top of the line durability and power if you can't use it? Rugged PCs from Tangent are built to be extremely versatile, and fit for every situation required of them. Rugged PCs like the Rugged Mini E2 from Tangent are ready to perform in any environment they are needed in. With a wide-ranging power input going form 9 VDC to 48 VDC, this Rugged PC can be fitted into a jeep, tank, or troop transport all the same. WIth VESA/DIN-Rail mounting, Rugged PCs from Tangent can be securely mounted in any location. With Windows 10 preloaded onto the system, military personnel will be able to use these military grade computers in intense situations as easily as they use their own personal laptops.
Rugged PCs aren't just built with the military in mind, they're built for the military. Rugged PCs from Tangent meet and exceed the standards set forth by the military, all while providing the power and comfort of civilian computers.