When it comes to the needs of industrial facilities, no two sets of needs are alike. Every type of facility— from factories, to oil processing plants, and even refrigerated facilities—has its own unique set of problems requiring unique solutions. Tangent is highly aware of this, and has designed multiple industrial computers to meet the needs of many facilities. Our feature packed industrial computers are custom designed for nearly every environment, guaranteeing there are multiple Tangent industrial computers to meet the demands of your facility.
Flexible Mounting Options
Not every facility has the square footage to accommodate multiple office spaces, but this shouldn't mean that you have to sacrifice your workstations altogether. Industrial computers from Tangent like the F15 industrial grade computer are built for just such instances. With flexible VESA 75/100 and M8 Heavy-duty screws mounting options, the F15 industrial grade computer is capable of being placed nearly anywhere. The F15 industrial grade computer is an all-in-one PC that does not require a mouse or keyboard, meaning that it also does not require a large desk. Simply mount the F15 anywhere—even on a forklift—and "anywhere" can become an industrial workstation.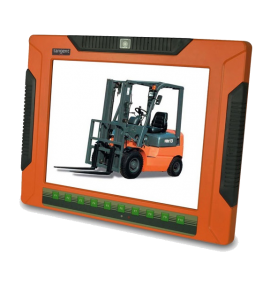 Military Grade Hardware
While other manufacturers claim to have "military grade" industrial computers, Tangent has actually gone through the accreditation process for its line of qualifying industrial grade computers. Industrial computers like the Rugged Mini Tank industrial computer meet MIL-STD-810F shock standards. This makes this industrial grade computer the perfect fit for industrial areas where vibrations and drops are a fact of life. The Rugged Mini Tank lives up to its name, and can withstand military levels of punishment while operating as though it was sitting in a coffee shop.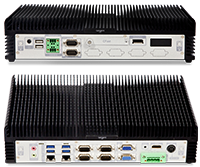 Advanced Cooling Systems
It is true that not every industrial facility's needs are the same, but one thing holds true across the board: industrial facilities require industrial computers with specialized cooling systems. Traditional fan based cooling systems used by commercial computers assume that the location they are used in will have an air filter to remove dust and other contaminants. It goes without saying that this is not the case in industrial facilities. Tangent has created a passive cooling system for its lineup of industrial grade computers that not only cool them off, but allow them an extreme resistance to temperatures.
Industrial computers like the Rugged Mini C from Tangent can withstand temperatures from  -40° – 185°F. This extreme range of operating temperatures makes the Rugged Mini C ideal for facilities where temperatures are either ice cold or beating hot.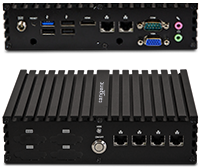 Feature Packed And Factory Ready
Industrial grade computers from Tangent are custom designed to meet the needs of every industrial facility. Whether your facility lacks space, requires military grade hardware, or even has extreme temperatures, Tangent has created an industrial computer that will be the perfect fit.